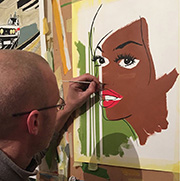 Born in Kidderminster, Carl Stimpson is an English painter and printmaker. Stimpson studied Fine Art at The Arts Institute of Bournemouth and currently lives and works in London.
For over a decade, Stimpson's practice has drawn on a variety of sources in the development of both its form and content – namely the 'ligne claire' technique inaugurated by Belgian cartoonist and Tintin creator, Hergé; late‐twentieth‐century British popular music and the trademarks of well‐known industrial brands.
"Instant Mash", a solo exhibition of work by Stimpson, was shown at Atom in February 2019, and his "Stripe" exhibition in October 2023.