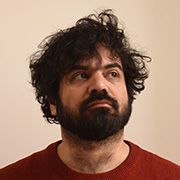 Babak Ganjei graduated with a BA in Fine Arts from Central Saint Martins in 2001. Since then he has been working independently as an artist, playing in bands (Absentee, Wet Paint), writing comic books (Hilarious Consequences, Early Learnings, Twit) and hosting regular radio show "Hot Mess" on NTS radio.
In 2014 Babak sold a set of twigs from his neighbourhood on eBay for £62. He has turned books by Jeremy Clarkson, Nigel Farage and Donald Trump into works of blackout poetry, and tried to sell a painting of his credit card back to Barclays for the value of the debt. It didn't work but he made a "friend".
His "Everything is really bad..." exhibition was shown at Atom in March 2019, and "Babak Ganjei's Vibe Dump" in September 2022.