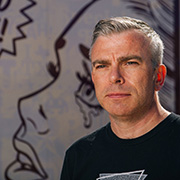 Beast Syndicate (BEAST) is the studio moniker of Texas-based graphic artist and printmaker Jeremy Thompson. Creating in the spirit of appropriation and customization popularized by the handmade zines of punk and other counter-culture movements, he draws inspiration from street art, skateboard graphics, post-war pop culture, and political propaganda.
Born and raised in England, BEAST creates work that blends familiar visual references with subversive undertones, employing the distressed textures of print-making and everyday detritus as a metaphor for the decay of the so-called American dream.
BEAST has been involved in a diverse selection of art shows and events across Europe, the USA, and in Australia, in a variety of mediums and themes, including street art, character design, skateboards, graphic design, and T shirts.