Can good picture framing be inexpensive?
17 June 2022 | Admin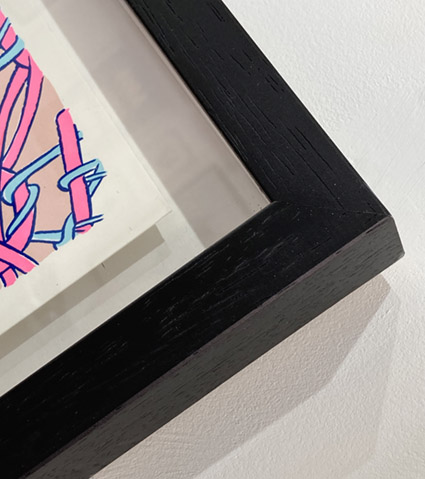 Or I could say cheap archival framing, although that almost sounds like a contradiction. What we at Atom Gallery do is provide an inexpensive way to frame pictures, mostly limited edition prints in our case, with archival permanence. There is no industry standard definition of 'archival', many digital paper manufacturers put archival in the name of a paper that would not meet the most relaxed definition of the phrase. It is a huge subject and one can pay a vast amount of money for the kind of frames that you would find in a national museum, designed to keep the artwork stable for generations. Atom frames are a fraction of this price.
Archival framing should satisfy four criteria: the process should be reversible, in other words you can retrieve your artwork undamaged from the frame at a later date; the materials used are ph neutral, this prevents acid travelling from mount boards or tape to the artwork and staining it; the artwork is separated from the glass, otherwise any moisture in the frame can make the ink or paint adhere to the glass and permanently damage it; and finally ultra violet protection - any glass will provide a high degree of protection from sunlight in comparison to no glass at all, and we glaze our frames with ordinary 2mm float glass rather than specially coated UV protective glass simply because of the cost. The length of time your artwork will remain completely undamaged in an Atom frame depends on many factors, including the amount of sunlight it is subjected to and any moisture and heat. What is true is that if you spend four times the amount you would spend on an Atom frame - very easily done - your artwork will last longer. How much longer is a question no one can answer for certain, but you will certainly have less money to buy more prints.
All our frames are box frames which keep the glass away from the artwork by a wooden fillet or spacer at the edges of the frame. This method also enables the artwork to be 'high floated', that is held away from the mount board by a piece of 5mm foam board cut slightly smaller than the artwork which creates a small shadow round the edges. Floating a print, either a 'high float' or simply taping it, with archival tape of course, to the mount board also has the advantage of leaving the edges of the paper visible, important when the edges are deckled or hand torn.
We keep eleven different sizes both in black and natural Ash finish. Both finishes have a simple square shaped moulding 2cm across the front by 3.5cm deep. We can frame nearly all the prints from the gallery in these for no charge above the cost of the frame and can frame your own print for a modest extra charge, usually for collection the next day.